The Chateau of Coppet: Rooms open to the general public
While waiting for the start of a guided tour, there are several rooms that may be visited unaccompanied. In the chateau's ancient kitchen you will find a kiosk where you may purchase books that are related with Mme de Staël, Mr. Necker and their friends; brochures; postcards, as well as other souvenirs related to Coppet.
In bathroom you will find various bathroom artifacts dating from the 18th century including Madame de Staëls copper bath-tub, a "sitting tub" from Mr. Necker. On the faded pink walls are maps of the chateau and surrounding grounds from circa 1870.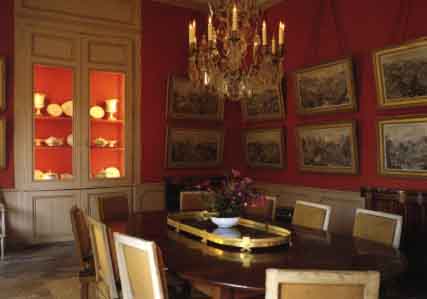 The summer dining room's windows open directly on to the park, where you can see a majestic cedar that is over 100 years old.
The ceiling of the room has preserved its stucco features, with in each angle a symbol of the four seasons.
In the showcases are pieces of a porcelain service from Paris, which was ordered by Auguste de Staël, in about 1820. The white porcelain is decorated with a gothic "S".
The walls of the room are decorated with a very rare complete series of engravings carried out in France under the reign of Louis XV. They recall the victory of the emperor of China Long Kien over his Mongolian enemies. The various scenes were initially painted by Jesuits stationed in Peking and were redrawn and engraved by famous French artists.
The mahogany table and the chairs accompanying it are from the 18th century and the gilded bronze centre-piece belonged to Madame de Staël.
In the small room attached to the dining room is the "wash-stand", a marble basin surmounted by a copper tank where the guests could rinse their fingers before and after the meals.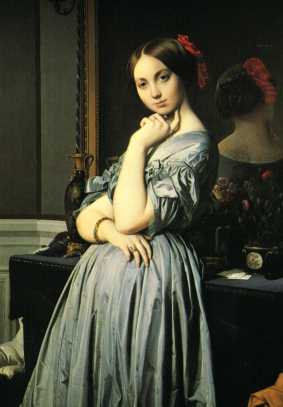 There is also a very beautiful portrait of Louise de Broglie, Countess of Haussonville (grand-daughter of Madame de Staël), the counterpart of Ingres portrait. It surmounts a Chopin style piano, because the countess was one of Chopin' s students.
Home | châteaux du canton | châteaux suisses| entrée du château |

©Les châteaux suisses. Die Schweizer Schlösser. The Swiss Castles