The Chateau of Coppet: The first floor
One reaches the first floor over a beautiful stone staircase. Standing here, one can admire a large portrait of Louis XVI in coronation clothes painted by Callet and the students of his workshop. This portrait was a present from the King to his Minister of Finance, Mr. Necker.
One enters in a small hall from where we can enjoy a view of the park and the Jura in the distance. A round pond reminds us that the park was originally designed "à la française".
In this room you can see a tiled stove made in 1791 in the neighboring town Nyon. Each of the tiles shows a different scene or landscape.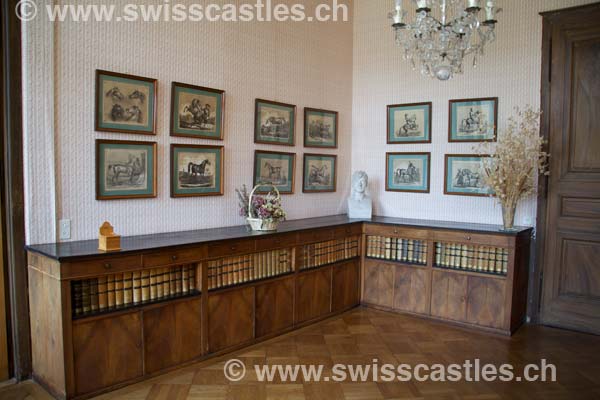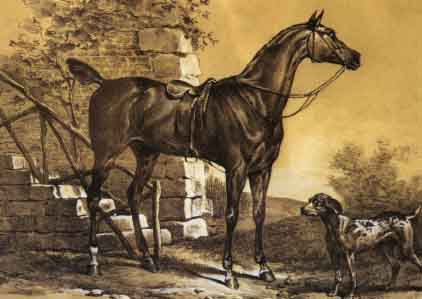 Horse Study by Carle Vernet (1758 – 1836)
Now, let's look at this room: on the walls are a series of lithographic prints by Carle Vernet, reproducing studies of horses, which were used as models during the drawing lessons taken by the girls of the family.
In the corner can be found a bust of the German philosopher August-Wilhelm Schlegel, whom Mme de Staël engaged as a private teacher for her children and later on as her advisor during the writing of her famous book." De l'Allemagne". This book was seized and destroyed by Napoleon in 1810, before reappearing in 1813 in England. The book is still the subject of significant studies.
Home | châteaux du canton | châteaux suisses| entrée du château |

©Les châteaux suisses. Die Schweizer Schlösser. The Swiss Castles